Things have been quite hectic since I'm back from my looooong vacation in New Zealand and Australia... God knows I haven't even posted anything about my trip and it's been more than a month! And so I promise myself to start posting this week. However, I do have several updates on my last trip to my hometown.
I came from a small town in Central Java, Indonesia. Though I have not been living there for almost 14 years, I do frequent trips to visit my family. Just as everyone living far away from their family, no matter how busy our life is, we still have to remember that we do have obligations and duties as a daughter (or son), sister (or brother), aunt (or uncle), cousins, niece (or nephew), etc. And I'm a firm believer that family comes first, thus every year, I go back to my hometown for at least 3-4 times and stay for at least a week. So since I am currently no longer bound by strict office hour and limited number of leaves, I spent 3 weeks visiting my family since late May until last Friday.
My hometown is indeed a small town, named
Purwokerto
. It takes around 5 hour train ride or 7-8 hour car ride from Jakarta. Though it is still a place where people still know their neighbors; there's a lot of small
warung
, street food stall; and
becak
is still operating and well used by everyone; now it's rare to see paddy fields in central town area compared to 20 years ago; old houses are torn down and replaced by ugly minimalist shophouses; while my street was a quiet one and it took no problem to go across the street, now it is terribly noisy and difficult to cross. I remember saying to my mom that I miss the 'old' Purwokerto...
Since I know have a new habit to look at the sky and admire how beautiful the blue sky accompanied by clouds with many shades of white, I was disappointed that the sky was always cloudy throughout my stay. But on one afternoon, I was chatting with my niece when I suddenly noticed, there was a rainbow across the sky!
The photo might not do justice, but I assure you, it was beautiful :)
Especially since the sky was so grey, and the rainbow kinda signified a beauty that could come out from such dark and gloomy surroundings, that somehow it gives hope that there's always a silver lining in every situation that we may deem bad (maybe I'm being a little bit poetic here...)
Then, on my journey back to Singapore, I took a train to Jakarta, and continued with a bus to airport. The train station is right next to National Monument, and when the bus passed by it, I was surprised to see that the National Monument park looked maintained and even rather beautiful (by Indonesian standard). I just said to myself that I had to take a picture of it.
When I arrived at Singapore, another surprise waited for me. Singapore haze is back!!
I thought my eyes were deceiving me when I looked out from my plane window and saw how foggy Singapore was. In taxi on my way home, I was feeling strange to see how hazy it was. And not after browsing, I found news that
Singapore is indeed 'under attack' by haze
. I'm not proud to say that my beloved country is the cause of it...
On Saturday, it was actually clearer, but by Sunday night, I was in my room when I smelled something burning. I looked around my room for a few seconds before I realized that the smell came from the haze. Today, I could straightaway smell the smoke when I got out of my room in the morning. And by late afternoon, it got worse...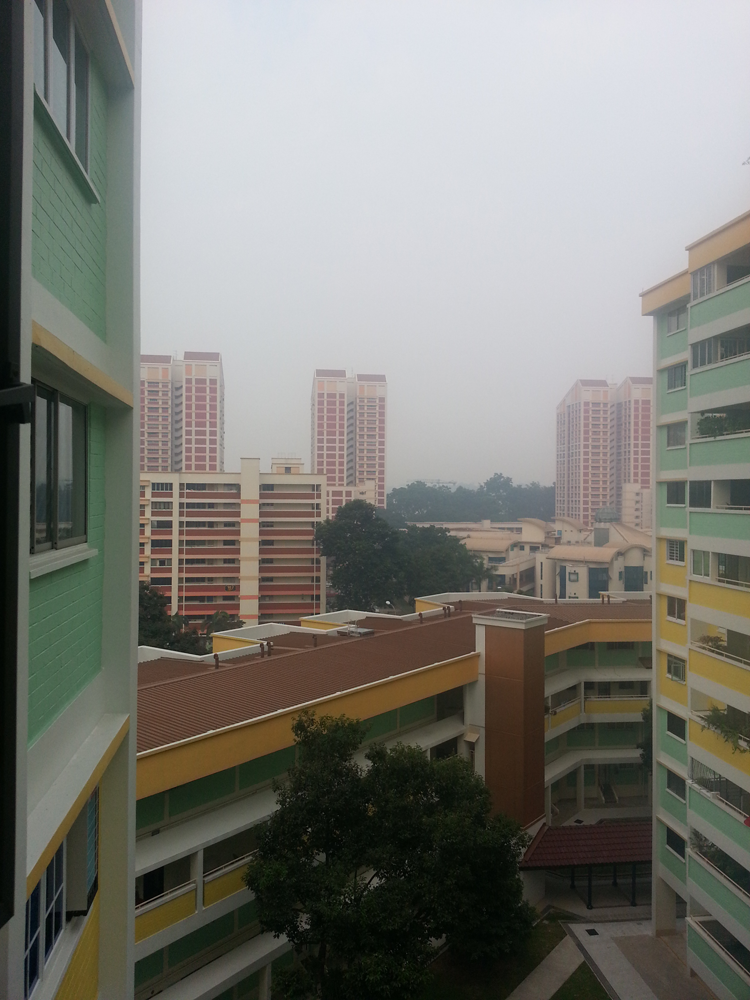 view from my house
The
news
doesn't look promising either. There's even a blame game played by officials of Singapore, Malaysia and Indonesia, sigh... I can only hope the haze will be clearer in days ahead, though I will not get my hopes up either... :(
---
On a side note, I went to
Beer Fest Asia 2013
in Marina Promenade last Saturday and I had a blast!
Killer Queen
was performing and boy, they do still have their magic!
I first saw them in Beer Fest 2011, and they turned me to a fan overnight. When I heard that they were having a show in Timbre in December 2011, I went with a group of friend and I wasn't disappointed. So when I learned that they would perform in this year Beer Fest, I knew I just had to go.
This time I managed to stand very close to the stage and I truly enjoyed every song they performed. The crowd was so full of fun, and one memorable moment is when 'Freddie Mercury' went to backstage to change costume right in
the Opera part of Bohemian Rhapsody
, the whole audience sang along the whole part without stopping until he came back to stage to finish the song. It.. was.. AWESOME!
Killer Queen, I'll see you at your next gig in Singapore!